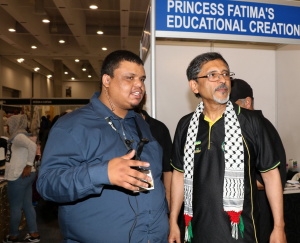 The Cape Town Ramadaan and Lifestyle Expo has embedded itself into the hearts and minds of people from the Cape.  Established in 2010, the event now boasts a key element of lifestyle, demonstrating that the principles of Ramadaan are universal.
The event celebrates the melting pot of cultures that is South Africa.
The Ramadaan Expo was conceptualized by Radio 786 – a local community broadcaster – to better prepare Muslims for the month of fasting, moreover it was the commitment of its founders to enhance opportunities for small and medium-sized businesses, enhancing access for start-ups and outreach initiatives.
The Expo is strategically held over three days in the lead-up to the Muslim month of fasting.
It harnesses the multi-billion dollar buying power of the Halaal market, contributing not only to the sustaining of jobs, but creating new relationships in the socio-business fraternity.
What started out as a small informal market has now grown to attracting some twenty thousand patrons pitting it against much larger, well-established events.
The Cape Town Ramadaan & Lifestyle Expo is the biggest event of its kind in the Western Cape, growing from a modest civic centre to now being showcased at the Cape Town International Convention Centre.